Are you the kind of person who likes to be among the first? Quite a few new hotels have recently opened their doors in Lisbon. There are boutique and new luxury hotels, as well as affordable quality accommodations.
Completed in 2018 and 2019, and centrally located, these are some of the best hotel options in the Portuguese capital to consider for 2020.
My Story Hotel Figueira: Best Downtown
There are five My Story Hotels in Lisbon, all of which offer clean, contemporary rooms at affordable rates in central locations. Of these, My Story Hotel Figueira is the only 4-star. It provides particularly good value, given its unique location in a restored ancient building right in Praça da Figueira, one of Lisbon's iconic squares in the Baixa (the city's downtown area).
Most of the city's top attraction are just around the corner, allowing you to save money on public transport. The hotel's La Squadra restaurant serves Italian classics.

The One Palácio da Anunciada: Best Luxury
Once a library, with over 18 thousand books, and a museum with works by Rubens, Ticiano and Correggio, The One Palácio da Anunciada is housed in palace built in 1533. This luxury property is owned by the Spanish H10 Hotels. It has a total of 83 rooms, five of which are suites.
The hotel's restaurant is located in one of the grand halls with impressive ceilings and direct access to the gardens. It serves Portuguese cuisine with a Mediterranean influence. With 2,500 sq metres, the gardens have a century-old dragon tree, a swimming pool, and a spa.

Ibis Styles Lisboa Centro Marquês de Pombal: Best Budget for Families
Hotel Ibis Styles Lisboa Centro claims to be both trendy and cool, offering that at affordable rates. The Styles concept brings a different theme to each city. For Lisbon, the chosen theme is Garden, inspired by the hotel's proximity to Eduardo VII Park.
Ibis Styles Lisboa Centro is also a family-friendly property with rooms and discounts for families, and spaces designed for kids. In total, there are 145 rooms (among single, double, and triple), as well as a restaurant and bar.

The Vintage Hotel & Spa: Best Vintage
The Vintage is an atmospheric 1950s, '60s and '70s 5-star hotel. Each of the 56 rooms is different, telling its own story through "rich colour palettes, expressive artworks, and clean modern lines". The hotel has a restaurant focusing on Portuguese cuisine with locally sourced seasonal ingredients, a rooftop bar, a spa, and an indoor pool.

Bairro Alto Hotel: Best Boutique
After a two-year renovation, Bairro Alto Hotel reopened in August 2019. Set in an eighteen-century building that was once the famous Grand Hotel de L'Europe, the hotel doubled its rooms, including signature suites on the top floor. In addition to a rooftop bar offering an amazing view of the River Tejo, the hotel has a restaurant and a wellness centre with sauna and a gym.

My Story Charming Hotel Augusta: Best Budget Downtown
The 3-star My Story Charming Hotel Augusta enjoys an exclusive location in a restored ancient building right on Rua Augusta in the Baixa, Lisbon's downtown area. With the River Tejo nearby, you'll get full immersion into the sights and sounds of the city, but it will be quiet at night thanks to soundproofed rooms. The hotel's Bistrô Augusta serves traditional Portuguese cuisine.

Áurea Museum by Eurostars: Best Riverfront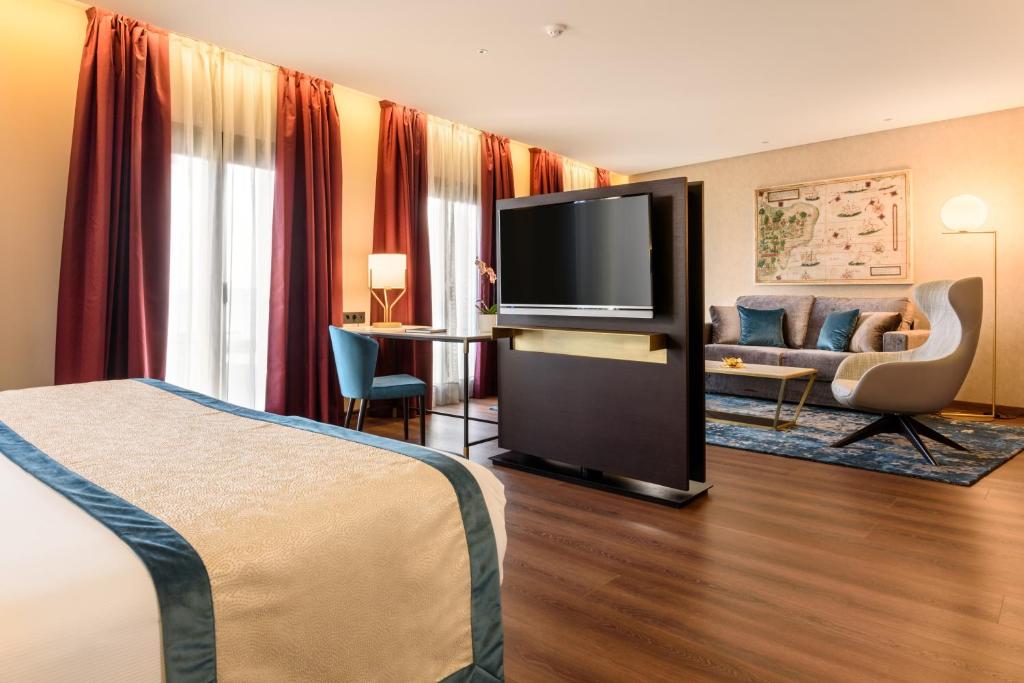 Áurea Museum has a unique location, right in front of the River Tejo, with the Moorish Alfama neighbourhood on its back, and the Baixa (downtown Lisbon) a few steps away. It has 91 spacious rooms, each elegantly decorated, and spa facilities, with an indoor pool, massage room, and Turkish bath.
The building is special too. You'll be staying in a hotel which is also a museum: its walls were once those of a palace, and remains from the Iron Age and the Roman and Moorish occupations were discovered during archaeological excavations. Guests can take a tour every Monday to Saturday at 10am, and Sundays at 2pm, 3pm or 4pm. The general public can visit every Sunday. Reservations required by emailing the hotel at visitas@eurostarsmuseum.com.
Raw Culture Art & Lofts Bairro Alto: Best Nightlife
Raw Culture Bairro Alto offers a cultural experience in a property set in the historic neighbourhood of Bairro Alto, known for its fado houses and many bars. Each loft, uniquely decorated with the owner's private art collection, features a kitchenette and private baths. A delicious breakfast is included in the rate.